(Thanks to Cyberdyne, for his AA thread layout. Which I shamelessly copied for the sake of consistency)
The following are HBAO+ Flags to be used with
NVidiaInspector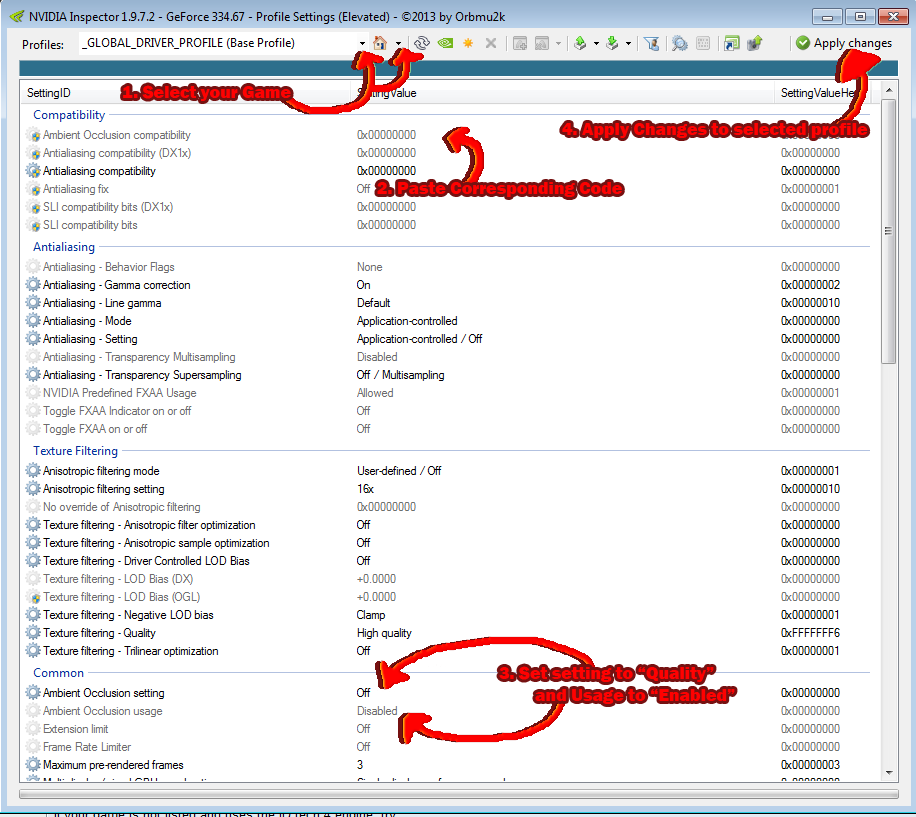 A guide for the setup and basics of Inspector is here.
What is HBAO+?
1
2
Information on Original HBAO
(Since HBAO+ is an evolution, it shares many of the same traits)
1
Link to list
https://docs.google.com/spreadsheet/...2c&usp=sharing
(References listed as "OP" Are ones I tested myself very heavily before making this thread. Or those given from others who's posts it would be too tedious to track down)
Rules for posting a flag to be used in the OP:
In order to filter out the discussion from entries needing to be added to the spreadsheet, results need to be presented in some form of proper formatting like the below (Or else I might miss it, or have a hard time parsing through the information needed). It makes things easier for everyone so please play along . Screenshots with an OSD showing GPU usage, framerate,etc are recommended as well please!

(Note the below is just a generic template you can use. Feel free to make your own. Just make it easily visible and structured in some way!)

(when making a post, just delete the "`" from the brackets)

Quote:

[`B][`U][`SIZE="3"]- Game Title -[/SIZE][/U][/B]
[`B]Flag:[/B]
|||||||||||||||||||||||||||||||||||||||||||||||||| ||||||||||||||||||||
[`B]General Information:[/B]
['B]Pictures[/B] *Are Required please* If official flag exists, we need a comparison between it, no AO and your flag that you found
__________________________________________________ ______________
List of Games not recommended to use HBAO+ With, or is currently impossible to do so.
EDIT AS OF 11/2015 - A new method for modifying HBAO+ to the needs of the game has been discovered and overturns this list almost completely. It is just a matter of revisiting those games and plugging away at trial and error.
Two Worlds II - Game has terrible SSAO that can be disabled, but I could not find a flag that didn't work without issues of one sort or another
Marlow Briggs and The Mask of Death - Non defeatable SSAO
Dawn of War I series - too old?
The Walking Dead - Cannot or won't because goes against art style? The flags I tried didn't work
Trine - Has built in AO that can't be disabled(?)
The Typing of Dead Overkill -Won't without issues
[I]Unreal 2 The Awakening -
Tomb Raider Legend - Not possible without glitches or major
performance issues.
Medal of Honor (2010) - Only applies at title screen, or causes performance or visual glitches
Loadout - already has some form of AO that cannot be disabled
Bionic Commando 2009 - undefeatable SSAO
Bionic Commando Rearmed - Either bleeds& flickers off when gun is fired in certain environments or other junk
Serious Sam TFE HD, TSE HD & 3 BFE -Impossible without AO buffer being reprojected or some crap
Star Wars The Force Unleashed http://www.forum-3dcenter.org/vbulle...postcount=5648
Lost Planet 2: Not possible without Fogging issues
AfterFall:Insanity - Impossible without flickering on and off or bleeding
Battlefield Bad Company 2
Resident Evil 4 Ultimate HD Edition
Murdered: Soul Suspect - Nothing works in DX11. DX9 works though.
Gears of War - Ironic considering it's official flag status
Legend of Heroes VI: Trails in The Sky FC -
Far Cry
Final Fantasy XIII - 0x0000000F can be used at your own discretion. Variable results.
Resident Evil 6 - Impossible without major problems
Need For Speed Hot Pursuit (2010) - Impossible without glitches or performance issues
ArcaniA:Gothic 4 - only 1 flag works. And it has bleeding issues. Severely
Sleeping Dogs (Original version)
Clive Barker's Jericho -http://forums.guru3d.com/showpost.php?p=4954680&postcount=1157
Red Faction Geurrilla -Impossible without major bleeding
Killing Floor - 0x0000000F provides the only working but broken effect
Cryostasis - Applies to both DX9/DX10
|||||||||||||||||||||||||||||||||||||||||||||||||| ||||||||||||||||||||||||
- How can I help test and find flags? The easy way.-
(And determine if it is impossible to force HBAO+)
It's as simple as loading up or making a profile for a game, and going down the list of available flags in the driver to figure out which ones work and are ideal for that specific game!
(If any fit that criteria that is)
Different Flags with bits in different slots are corresponding to which API they work in
Quote:
0x00WX0000 (DX10/11 only); 0x000000YZ (DX9 only)
These flags are not combinations of functions like with Anti Aliasing Flags. But rather each flag set corresponds to a set of programmed HBAO+ functions for that flag.
So it is not wise to test any flags beyond what is in the list in Nvidia Inspector, as these undefined flags are often what seem to be testbed flags for Nvidia and will be modified when a new flag is introduced in a new driver (IE:As of 11/2015 we are up to 0x00000039 for DX9 flags, the next flag will be 0x0000003A). (Though there have been exceptions)
If your title is a DX8 game and you wish to try>
You may follow this post to give it a shot if going down the list of available flags does not produce any results
Generally, there are a lot of cases where one flag series for one game engine (like Unreal Engine 3) will tend to work with other games on that engine. Though this is not universal, this helps you have some sort of starting point of what flags to start trying.
So for example here are a list of flags built into the driver by default for games running on UE3
0x00000002
0x00000010
0x00000020
0x00000021
0x00000024
0x00000025
0x00000026
0x0000002F
0x00000030
Remember this is just a starting point!
Things to look out for when testing various HBAO+ Flags:
Sometimes, a flag will work (Or won't), but it will kill your GPU Usage and framerate. I'm sure this has something to do with how HBAO+ is specifically rendered. So it's important that you use an OSD like MSI Afterburner to monitor statistics while you test
Does the game already have some form of AO? If so what kind? Can it be disabled? It should probably be disabled to force HBAO+. If it already has some form of AO that can't be disabled, it's probably not a great idea and should be listed for *Impossibility* (EG: Post for the game using the same template as above, but in the "Flag" Field, type it's impossible, or has undefeatable SSAO or can't be done without issues.)
There are a large number of things to look out for when testing HBAO+ in order to find the ideal solution for the game in question

Clouding and flickering - Are the AO'd areas too dark/inaccurate and move like a foggy cloud or flicker in motion? Video Example (Look at the Grass and how at certain angles it's applied like a thick ugly cloud). Image Example
Is it applied too strongly? - AO can be applied too strongly to the contrast of the rest of the rendered environment and if there is a angle bias issue as well, the angle of the camera can cause issues with undersampling artifacts that look like and can cause aliasing. Video Example
Does it turn on and off at different angles? - Again, could be an angle bias issue or something. Video Example
How does it behave with Fogging? - (Also applies to volumetric fog) Sometimes AO applied just does not agree with how a game has Fog set up, which can result in a number of things such as it being applied through the fog, and too strongly as well, resulting in an ugly image that just looks discontinuitous . Image Examples: 1 2 3 4
Sometimes when issues with fog arrive, so some undersampling glitches. Image Examples 1 (Look at the sand in the upper middle right) 2
How does it look once AA is applied? (Does it look natural and flush with the game, or does it adversely increase aliasing issues or other things?)
Are there just general glitches and ugliness? - sometimes HBAO+ Just doesn't play nice with a game at all, or with certain flags. Which can lead to things like the entire graphics becoming glitched, things missing, the entire HBAO+ buffer bleeding through and making everything look very bad. Image Examples 1 2 3 4 5
Does it bleed through things like Overlays, objects or UI? - Not sure the causes, but the AO can sometimes just bleed through just about EVERYTHING, leading to immersion breaking results. Image Examples 1
Are there strange horizontal or vertical lines? Thin and thick? A common enough fix seems to be to use "Performance" mode rather than "Quality" or "High Quality"

Good Luck and Happy Hunting!
This ends the "Easy Way" section.
_______________________________________________
|||||||||||||||||||||||||||||||||||||||||||||||||| ||||||
________________________________________________

If you speak German, there is our companion thread at Extreme PCGames Hardware

http://extreme.pcgameshardware.de/gr...taetsbits.html

Hopefully we can all end up helping each other out and compiling the best list we can.