UPDATED INSTRUCTIONS!!
Flashing bios instructions for any Nvidia Keplar GPU.
YOU DO THIS AT YOUR OWN RISK
I wrote this guide as i couldnt find one anywhere.
First of all, You then need to download these files.
GPU-Z (This is used to grab the original Bios from the Gpu wether multi or single)
http://www.techpowerup.com/downloads/2181/mirrors.php
KGB - Kepler BIOS Editor/Unlocker. (This is used to modify the Bios that you just grabbed from your Gpu using Gpu-z)
KGB supports:
GTX690, GTX680, GTX670, GTX660Ti, GTX660OEM and GTX660
New version 0.6.1 (Adjustable Boost control)
https://www.dropbox.com/s/d6dimgnx8cxvlca/kgb_0.6.1.zip
Old version 0.5
https://www.dropbox.com/s/vrunxuq03vj0m5y/kgb_0.5.zip
NVFLASH (This is used to reflash or reinstall the new modified bios)
Make sure this is version 5.127, An older version will not work.
http://www.softpedia.com/progDownloa...oad-16133.html
Steps 1-10.
1.Ok what you need is firstly to make a USB dongle bootable into DOS, To do this read this very easy to follow guide.
http://www.bay-wolf.com/usbmemstick.htm
2.Run GPU-Z and and click on the icon that allows you to grab your bios from the Gpu and save it to your PC.
Each Gpu has 1 bios that belongs to it.
Then also at the bottom of the picture were it is circled in red and labelled 2, If you have more than 1 gpu then you will need to change this to gpu 2,3 or 4.
Then grab bios no 2 from your Gpu and save it to your PC the same way that you did with bios 1
The picture below shows how.....
Also make sure you have a copy of your bios, Put the original(s) in a safe place!!
3.Once you have grabbed your bios put it into C:\Users\ (yourname) and rename it 1.rom
For example the bios from the GTX 690 Gpu 1 is called GK104.rom, I renamed it to 1.rom and the bios from Gpu 2 also named GK104.rom I renamed 2.rom.
The reason why you should put the bios in C:\Users\ (yourname) is because the default path will be set here from KGB.exe so if you are not familiar with the CMD (Commandline) then this is the easiest way of doing it.
5.Take the KGB.exe as well as the KGB.cfg file and also place both of these in C:\Users\ (yourname).
You should now have KGB.exe, KGB.cfg and 1.rom files in C:\Users\My.
If you have more than 1xGpu then you will have 1.rom and 2.rom respectively in C:\Users\ (yourname).
6.The next thing to do is open up the CMD (Commandline) which im sure you all know how to do.
Once you have the CMD open, Copy and paste in this command.
kgb 1.rom unlock (press enter).
It will now save the new values (i.e. from kgb.cfg) in your bios then print out the new values in the bios.
Do the same again for 2.rom if you have a 2nd card/Dual gpu and have extracted the bios file from the Gpu(s).
Copy and paste in this command into the CMD (Commandline)
kgb 2.rom unlock (press enter).
It will now save the new values (i.e. from kgb.cfg) in your bios then print out the new values in the bios.
7.Now all we need to do is put the new modified 1.rom and possibly 2.rom back onto the gpu, To do this we need to use the USB DOS bootable Dongle that we created in step 1.
Take the nvflash files once you have extracted them and place them onto the USB DOS bootable Dongle, There should be 2 files.
Then place the 1.rom bios also on the USB DOS bootable Dongle.
8.Now the Dongle is ready to be booted from so reboot the PC and go into the bios.
Once you are in the bios make it so the PC boots from the dongle, Once this happens you will then have a flashing cursor telling you that you are in DOS mode.
9.Type in nvflash --list (press enter)
This will then tell you what gpu(s) that you have installed on your motherboard.
10.Type in nvflash -i1 1.rom (press enter)
It will then say flashing Gpu and press Y to confirm, so press Y and the flashing will commence which takes a few seconds.
If you have a second gpu with 2.rom.
Type in nvflash -i2 2.rom (press enter)
It will then say flashing Gpu and press Y to confirm, so press Y and the flashing will commence which takes a few seconds.
Once this is done reboot the PC go into the bios and reset your boot so it boots from your hardrive with the Windows OS on.
Once you get into windows you can see from MSI afterburner or EVGA precision that the power target can be raised from 130 to 150.
When gaming the boost clock should be higher depending on your GPU.
I achieved around an increase of 30 on the core clock on boost alone on both GPU's which is very good.
It will differ for each person and each GPU(s), You can also try other peoples bios as long as iyts the same GPU as your own.
You can also modify the KGB.exe and tweak power settings for even more results but I wouldnt advise this unless you know what you are doing, I would just leave it at stock and use that for the time being.
The original Creator of KGB.exe can be found here.
http://www.xtremesystems.org/forums/...Unlocker/page4
Common problem that may arrise.
Sometimes when you flash your card(s) you may get this problem were you card is write protected and it wont allow you to flash it.
Picture here of problem...
The Solution
Type in the CMD....Nvflash --protectoff....then try again with the flash. to enable it again do....Nvflash --protecton.
This should enable you to write/flash the bios to the card with no problems.
Additional Information,3rd Feb 2013
v0.6.1 has adjustable Boost clock which are coded into the KGB.
The Boost clock adjust can be found in the .cfg file.
Here is the table with which you should set your boost clock too which are increments of 13mhz.
This is a list of valid frequencies that have been coded in KGB.
771.0
784.0
797.0
810.5
823.5
836.5
849.5
862.5
875.5
888.5
901.5
915.0
928.0
941.0
954.0
967.0
980.0
993.0
1006.0
1019.5
1032.5
1045.5
1058.5
1071.5
1084.5
1097.5
1110.5
1124.0
1137.0
1150.0
1163.0
1176.0
1189.0
1202.0
1215.0
1228.5
1241.5
1254.5
1267.5
1280.5
1293.5
1306.5
1319.5
1333.0
1346.0
1359.0
1372.0
1385.0
1398.0
1411.0
1424.0
Set your Boost clock ,flash and then test for stability.
Everything you do is at your own risk
Modding the 690 from 1.175v to 1.3v
Firstly STOCK SETTING in MSI AB : STOCK SPEED , POWER TARGET TO DEFAULT AND FAN SPEED TO DEFAULT ALSO.
Save the settings in profile 1 for instance.
Close down ALL MSI AB TABS , and the software itself.
Next.....
Open c:\programfiles\MSIafterburner\Profiles\
In here you should see 4 files....
1xMSI Afterburner.cfg
3xVEN
You need to copy and paste the following lines in 2 of the VEN files.
The two files that you need to copy too are
VEN10DE&DEV
(Remember the 690 has two GPU's on it hence the alteration of two files.)
[Settings]
VDDC_Generic_Detection = 0
VDDC_NCP4206_Detection = 3:20h
Here is a picture of my file, apply the above lines to both files as i said earlier.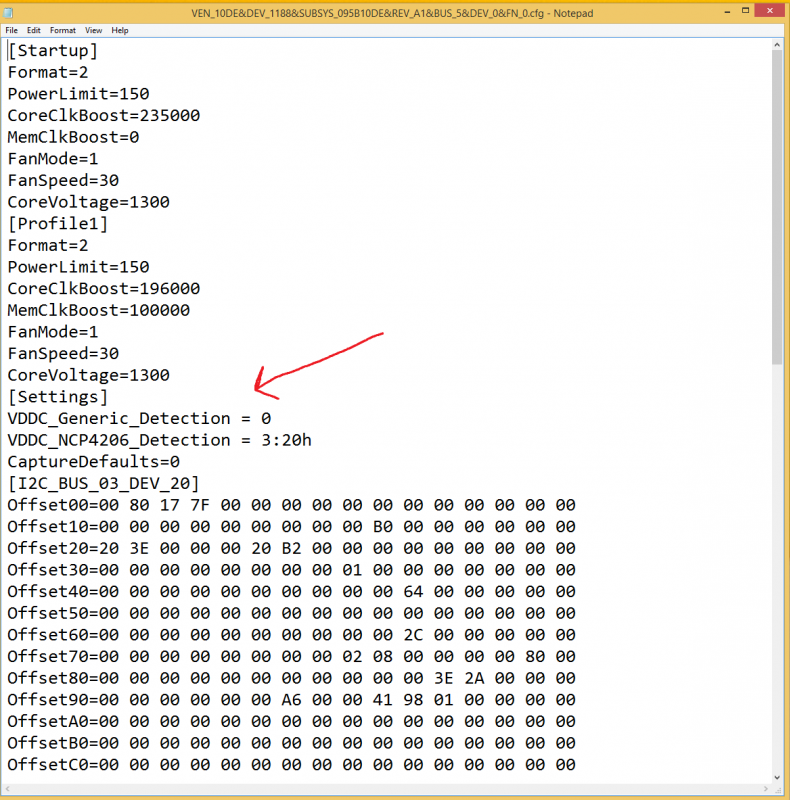 The other file is VEN000&DEV....
DO NOT
Alter this file, leave this file alone. Also leave the MSI Afterburner.cfg alone.
Now if everything is ok, next time you'll restart MSI AB, a popup window will display with the sentence "You should restart the computer otherwise MSI AB will not detect properly the speed and the fan configuration ...... "
Click on "NO" ( U don't want to restart the pc, indeed you prefer forcing the detection right now !)
MSI AB wil pop up briefly disapears and pops up again... (look at the voltage tab) : AUTO should be written, moving the slider will display REAL VALUE in starting from 0.80V to 1.3V maxed out. The 690 maxxed out at 1.3v applies to the 690 and not the Titan even though they have the same NCP40206 Architecture.
Finally an LLC fix can be applied for an extra 250mv of power.
http://www.mediafire.com/download/dc...ABHack_B18.zip
To anybody else reading this....Not advised unless your on a good watercooling setup or better,
not advised to do on air
as cards run very hot without this mod.
Hope this guide helps, good luck.
B]Voltage mod for fully watercooled cards only[/B]
Copy and paste this line into a text file and then name it .bat at the end then run the file.
"c:\program files (x86)\msi afterburner\msiafterburner.exe" /sg0 /wi3,20,21,
2B
/wi3,20,D2,7A /wi3,20,D3,7A /sg1 /wi3,20,21,
2B
/wi3,20,D2,7A /wi3,20,D3,7A
The above line of text will give you 1.35v provided you have run the LLC tool (Zaruwardo).
I recommend you start here first, make sure its working by reading MSI AB realtime voltage which you have to enable in the settings to see it correctly.
Here are the Hexcodes that i found that will save you alot of time and effort and potential damage to your card. Never run the card at over 1.45v i have found, at 1.48v i hardcrash so the circuitry fails on my card at this voltage.
I run at 1372mhz at 1.42v, works great.
1.35v=
2b
1.34v=2c
1.38v=26
1.60v=2g
1.4v=23
1.409v=22=1354?
1.413v=21=1372?
1.438v=1D
1.444V=1C
1.456v=1a
1.51v=0f
1.50v=11
1.475v=15
1.48v=14
1.42v=1f=1372?
1.256=3a
Make sure your cooling is running well because on an air setup this will destroy your card and as always you
use at your OWN RISK
.
However i have not had any problems whatsoever.
Also go into MSI AB install location and fine 2 files (one in the root and one in the profiles folders) called MSIafterburner.cfg and find Unofficialoverclocking mode and set this to number 2. This will stop any throttling.
Make sure you have these settings also.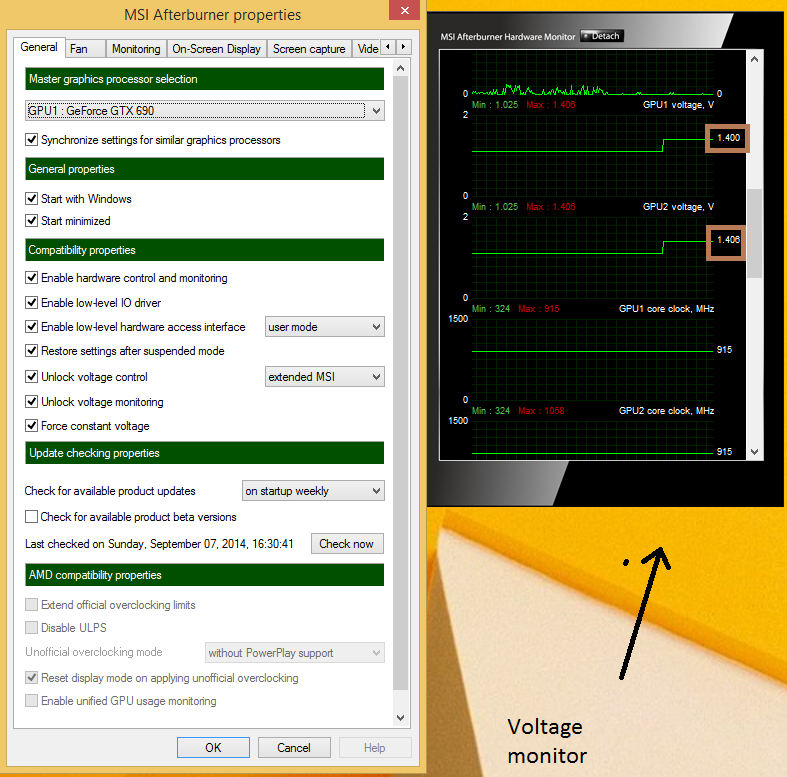 The voltage that you should see is 1.35v and make sure you have installed MSI AB to its default installation folder as this is the path i have if you look at the .bat file location.
Proof of the volt mod working Arma 3 running at 1372mhz.