Quote:
Originally Posted by
schorsch07
Hello clokkevi,
here are my [SPECviewperf 7.1.1] test results.
Why are the results of your videocard considerably better than my videocard?
Very good!
Your results are much better in Quadro mode, so your mod *works*.
Regarding my results vs. your results:
There is something you need to do,
and that is to determine which driver version you want to use.
If you go to
http://www.nvidia.com/page/partner_c...d_drivers.html
you will see that 61.82 is the lastest that is cerified for Maxon Cinema4D
- in this list, at least.
I used 77.56 drivers, since they were the latest for Maya, Studio and XSI.
So if you want a 1:1 comparison with my results, you should install 77.56,
then do the procedure I describe below.
Before you run SPECviewperf tests, you should always do this procedure:
These are the settings which are used in the results on the SPEC site, e.g
http://www.spec.org/gpc/Oct1_04/opc....1/summary.html
- - - - - - - - - - - - - - - - - - - - - - - - - - - - - - - - - - - - - - - - - - - -
Set your resolution to 1280 x 1024, 32-bit color
Then go to "Performance & Quality settings"
Here, you should choose "- Global driver settings" in "Active profile:"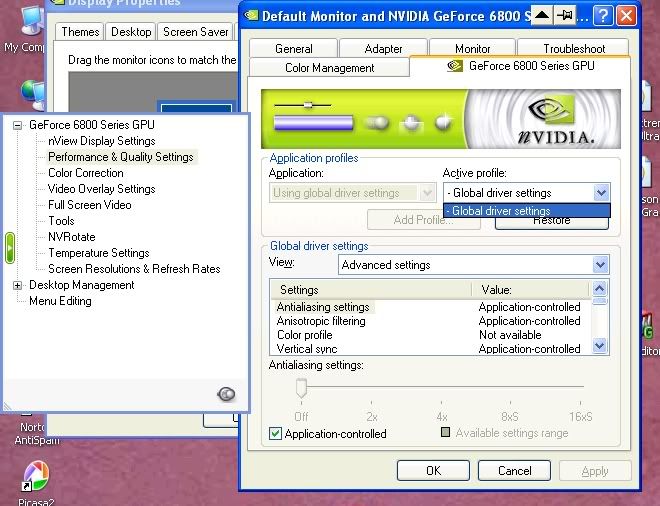 If it is possible to click the "Restore" button, then do this.
Also, set the "Global driver settings" -> "View:" to "Advanced settings"
In the end, it should look like this: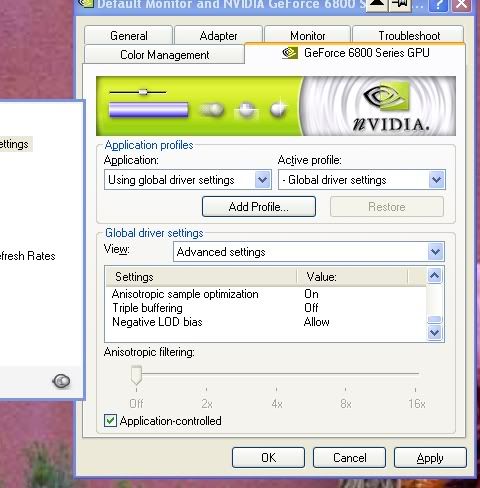 ..these screenshots are not from my PC, I have AGP 8X so it says "Quadro FX 4000" instead of "GeForce 6800 Series"
Also, I use Windows Classic style with custom black / grey colors, like this:


Click "Apply" button, if it is possible. Do not click "OK" button yet.
First, find "Vertical Sync" and change from "Application-controlled" to "OFF"
This will enable the "Restore" button again, but this time, do not click it.
Instead, click "Apply" and then click "OK"
Then restart your PC.
Stop as much of the running, auto-starting programs as possible,
MSN Messenger etc., all those in the lower right corner of your screen.
Then do the SPECviewperf tests.
Do not even *move* the mouse when running the tests...!
- - - - - - - - - - - - - - - - - - - - - - - - - - - - - - - - - - - - - - - - - - - -
Lastly, after you have done your testing, and you want best stability / performance from your program,
you need a certain file, "nvwsapps.xml".
This was not installed because of your PCI-E makes Windows see your card as a GeForce.
You need to manually extract "nvwsapps.xm_" from the driver version you use:
Open the driver installer with WinRAR, extract "nvwsapps.xm_"
Then expand it, from "nvwsapps.xm_" to "nvwsapps.xml".
This is done with the "expand.exe" command.
Copy "nvwsapps.xm_" to a folder c:\tmp
Open the Command Prompt, then enter
cd c:\tmp
Now enter
dir
Code:
C:\tmp>dir
 Volume in drive C has no label.
 Volume Serial Number is 1234-1234

 Directory of C:\tmp

06.09.2006  15:51    <DIR>          .
06.09.2006  15:51    <DIR>          ..
17.03.2006  14:16             9 439 NvwsApps.xm_
               1 File(s)          9 439 bytes
               2 Dir(s)   7 112 347 648 bytes free
This verifies that this is the correct folder, with "NvwsApps.xm_" inside
Then enter
expand nvwsapps.xm_ nvwsapps.xml
Code:
C:\tmp>expand NvwsApps.xm_ NvwsApps.xml
Microsoft (R) File Expansion Utility  Version 5.1.2600.0
Copyright (C) Microsoft Corp 1990-1999.  All rights reserved.

Expanding nvwsapps.xm_ to nvwsapps.xml.
nvwsapps.xm_: 9439 bytes expanded to 63785 bytes, 575% increase.
Now you have the expanded file, "nvwsapps.xml" inside c:\tmp
Finally, copy this file to C:\WINDOWS\system32\
Enter
copy nvwsapps.xml %windir%\system32\
Code:
C:\tmp>copy nvwsapps.xml %windir%\system32\
        1 file(s) copied.
Then restart your PC.
This will make it possible to select Cinema4D from the in "Active profile:"
This is a preset that is certified to work with Cinema4D.