I have compiled this for those interested in running Dual-Channel in their system or those who wish to learn more about the architecture…
Dual Channel's importance and how it's affected the CPU industry…
Speedy CPUs grab most of the headlines, but as processors get faster, they put more pressure on other, less prominent parts of PC architecture to keep pace. That's why perhaps this year's biggest desktop technology trend is the move to higher-bandwidth memory architectures, specifically, to system chipsets with dual-channel memory controllers.
The appetite gap even affects relatively high-end chipsets like Intel's 845PE, which supports the latest Pentium 4 chips and Hyper-Threading technology, but is limited to the 333MHz memory speed of DDR333 (a.k.a. PC2700). The latter type of memory is a great match for a 333MHz-bus Athlon XP, but pairing it with a 533MHz-bus Pentium 4 is like using a Porsche to drive in city traffic.
Dual-Channel Memory Designs
Right now, there are two different strategies employed in dual-channel memory controllers, with the first being a platform with two independent channels in hardware. This is the format of nVidia's nForce and nForce2 chipsets for AMD Athlon XP systems, where each memory bank has its own memory channel and an arbiter distributes the load between them and plays traffic cop for incoming data.
This has the benefit of high actual memory bandwidth, but comes at the cost of some system overhead or latency associated with the arbiter (a matter addressed or greatly reduced by the nForce2), along with greater limitations on installed memory. With the nForce2, for instance, sticking with two memory modules is the best option for full dual-channel performance and stability.
The second strategy is to actually create a wider memory channel, thereby "doubling up" on standard DDR's 64-bit data paths. This is common of Intel dual-channel memory controllers. In the case of the E7205 workstation chipset (diagrammed below), each pair of installed modules acts as a 128-bit dual-channel memory module, which can transfer twice as much data as a single-channel solution, with no need for an arbiter. Depending on the application, this solution may not be as flexible as two hardware channels, and it does require an innovative chipset design to handle the 128-bit incoming data streams.
There are also hardware limitations placed on dual-channel memory platforms, such as maintaining consistency between modules and how they are installed. Install memory modules incorrectly or mix types and speeds, and the system will either hang (i850E) or downshift to single-channel operation (E7205, nForce2). These are basic rules placed on the platform to ensure consistency and keep user errors to a minimum.
How to install Dual-Channel…
Well if you have a motherboard that supports dual channel, such as i875P or nForce 2, then you may have slots on your motherboard that are black and blue. If you have an Intel Board, then there usually should be 4 ramslots, 2 close together then a large space then another 2 close together. Of these ramslot pairs, there should be one blue and one black in a pair. When considering Dual-Channel, you want to make sure you put the matched pair in one pair slots ( example both sticks are in black slots or both in blue) instead of one in one pair slot and one next to it in the other, if you do put it wrongly the result will be like a regular ram and you won't get the Dual-Channel boost in performance. So the basic concept is to put both matched paris in teh same colored slots. If you have 4 sticks of the same ram you may put them all in. Notice in the picture below of an ASUS P4P800 Deluxe i865PE with Dual-Channel Support, there are paired ramslots, and they have diferrent colors.
AMD, however, can only utilize one colored pair of these ramslots for Dual-Channel, as seen here in the Picture of an ASUS A7N8X-E Deluxe nForce 2 Ultra.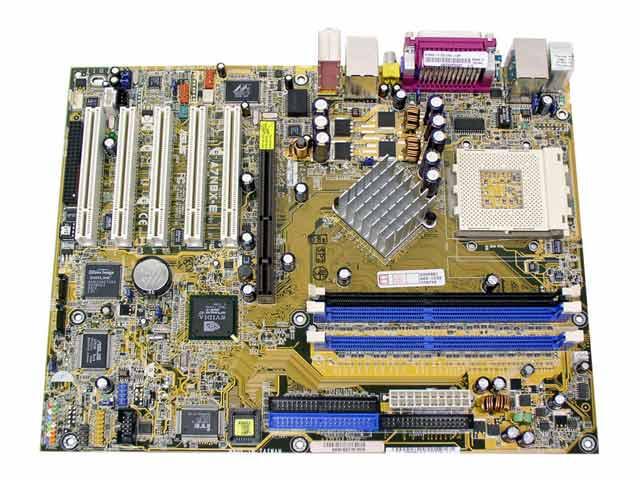 Notice there is only one pair of close ramslots, only that pair maybe used for Dual-Channel. Dual-Channel outputs a much larger performance difference than AMD system do.
Select correct RAM for your Dual-Channel System.
Well when you buy ram for your Motherboard's Dual-Channel Capabilities you always have to buy a similar set or exact pair of ram preferred. You don't have to have the exact same ram, but they must be the SAME speed (ex: both are PC-3200), both have to be the same size (ex: both are 512mb), both have to have the same configuration (ex: both are 64x64), these are required to run DC. But the most recommended is that both ram have the Same CAS timing as well (ex: both are 2.5 CAS) for optimal overclockability and stability of the complete system. When you buy ram, it is also recommended to buy the same company manufactured RAM (ex: both sticks are from Kingston or OCZ). Also remember that the best Dual-Channel is achieved from a memory kit, such as a 1024mb memory kit, the kit will come with 2x512mb sticks that are exactly the same.