Modding a Video Card with a CPU Heatsink
Written by Royicus
Disclaimer: Guru3D, nor anyone affiliated with Guru3D take responsibility for damage to your computer hardware. This modification requires basic craftsmanship skills including familiarity with using drills and taps. If you don***8217;t have experience with these, I recommend you practice on a spare heatsink before you try on the heatsink you intend to use on your video card.
Introduction
Video cards today often have coolers that are either small, noisy, don***8217;t cool quite as good as you***8217;d hope, or don***8217;t cool well enough for overclocking. To combat this, several companies have released video card cooling products, including Zalman and Arctic Cooler. These often cost in the range upwards of $25 USD + shipping. Can we do this better and cheaper? The answer***8230;sort of.
Mounting a CPU heatsink onto your video card is a great way to reduce temperatures. The only drawback is that it does not exhaust air out of your case, and quite often, it chews up a few (3 typically) PCI slots. People running SLI configurations can stop reading here, unless they use a 1U copper heatsink.
Supplies/Tools

- 1 x 60mm CPU heatsink and fan ($6USD + shipping)
- 2 x 4-40 machine screws ½***8221; long or so (<$1USD) (screws can be any size as long as they fit through the holes in the PCB and aren't too long, but the closer the bolt size is to the hole in the PCB, the more accurate you need to drill the hole)
- 1 x tap that corresponds with the machine screws ($5USD purchased with drill bit)
- 1 x drill bit that corresponds with the tap ($5USD purchased with tap)
- 1 x handle tap wrench ($8USD)
- 1 x drill (Hope you have one already)
- 1 x screwdriver for machine screw
- 1 x small nail
- 1 x hammer
- 2 x small rubber washers (<$1)
- 1 x fine tipped pencil/marker
- 100 x patience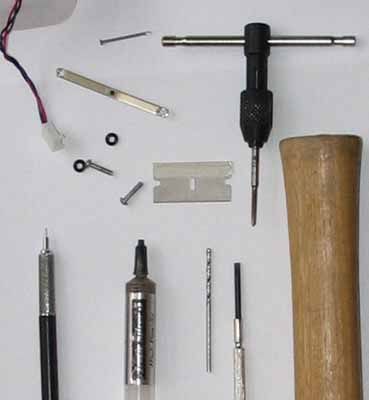 Extra Stuff
- thermal paste
- razor blade/credit card to spread thermal paste
- hand mirror (to help with aligning heatsink with card)
The total cost of this mod comes out to be about $30 or so, added with shipping for the heatsink. However, for many of us, we already have some of these supplies around, so the actual cost will often be less. I had to purchase the heatsink, screws, washers, tap, drill bit, and wrench. This worked about to be around $24. And as far as the tools go ($13 of my overall cost), you can use them for a long time, so it is a worthwhile investment
If you are having trouble finding the right parts at the hardware store, I strongly recommend you ask someone that works there. Chances are that they will be familiar with this hardware, and they can point you in the right direction.
I got my washers from a small hardware store (from the plumbing section), and everything else from home depot (except for the heatsink).
So now that we***8217;ve got that out of the way, are clear to start working!
Modding the Card
The following steps are what you need to do to mount a CPU heatsink on your video card.
Step 1 ***8211; Freeing Your Card
Take the old heatsink off of your card. I***8217;d recommend you keep it stored safely somewhere, in case you ever sell the card, or want to revert back to stock for some reason.
Step 2 ***8211; Marking the CPU Heatsink (most crucial step)
There should be holes in the PCB where the original heatsink was attached to the core. There are typically two or four, depending on your card. Two screws is enough, but if you have 4, go ahead and use all of them.
This is the most critical part. You need to mark holes on your heatsink where you need to drill the holes. The way I did mine was I put the heatsink fan down on a mirror and placed the card on top.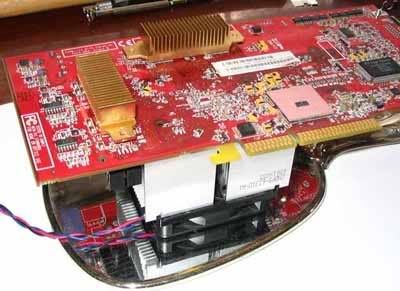 I looked in the mirror to make sure the heatsink was straight and then used a fine tipped mechanical pencil to mark where I needed to drill holes.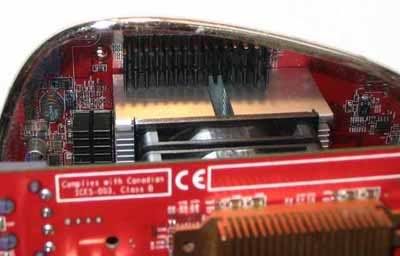 You can use any method you'd like, but you need to make sure those holes are spot on or the mod won***8217;t work and you***8217;ll be a crying wreck.
Use the principal here of measuring thrice and drilling once. Once you draw the holes, take a ruler and measure the distance of the holes on your card, then go back and measure the distance between the marks on the heatsink. These must match!!
Verify that the heatsink will be mounted straight on the card if you care about how the mod looks. Also, make sure that the heatsink isn't too close to the AGP or PCI-E connector.
Once the pencil holes are on there to satisfaction, you need to make an indent on those holes so the drill bit doesn't slide all over the heatsink. Do this using a punch, or even a nail and hammer. Just place the nail over the dot, then strike it with the hammer. This will create a little pit where your drill bit will bite, thus enabling you to drill right on the mark.