Quote:
Originally Posted by
CPC_RedDawn
This is unlike Nintendo though, normally they make barely any systems for launch. The original Wii they only made like 5 million for the WHOLE of Europe!! WTF? And the demand for that thing was crazy stupid. The adverts were everywhere! Remember the two Japanese guys knocking on the door of a family and showing them how the Wii worked... it was great advertising. Heck even the Gamecube had adverts at launch the giant glass cube in the shopping mall if I remember correctly.

They need to seriously start pushing this thing otherwise its going to be a complete fail, they do not need another 3DS launch and have to cut the price four months down the line. I reckon with a push in advertising they could shift a lot more units and get people knowing about the Wii U then when PS4/720 are released drop the price by £50 and start taking a loss on the system making it more appealing to the struggling masses. They just gotta get the games out within the next two years before the other systems get launched.
I wouldnt worry about wii u for now, there doing just fine, in japan wii u dominates the sales charts beating PS3,X360,3DS,Vita.
Wii U – 308,142 (n/a)
3DS – 211,499 (167,408)
PS3 – 36,994 (29,809)
PSP – 19,637 (15,941)
Vita – 11,039 (11,066)
Wii – 6,714 (5,550)
Xbox 360 – 1,216 (1,217)
PS2 – 904 (812)
DSi – 424 (457)
Looking real good so far.
http://www.zeldainformer.com/news/co...g-wii-u-launch
\
and heres the world wide chart as of december 6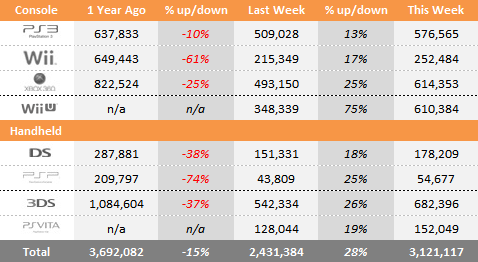 This week it sold 610,384 beating PS3 but only second to 360 no biggie and 3DS Holds the most sales leaving the Vita to dust.
Link:
http://www.vgchartz.com/article/2506...ches-in-japan/
should nintendo be worried? about its wii u no not at all
wii u is no where near a fail status.