Edit** the project now has a name:
I originally wanted a Silverstone SG07/08 but they don't sell it without the PSU. I had already bought a nice 750W Silverstone PSU, so I didn't want it to go to waste. All of a sudden the Cooler Master Elite 120 shows up and I instantly bought it when it was in stock.
$50!!
I also don't mind modding a cheap case.
The case just came in and I immediately stripped it down. Took off all the cables except the switch cables. Removed the rear PSU mount, rear expansion covers, HDD brackets, 80mm fan holder, , front bezel, and front fan.
I didn't take any before pictures, so here's some official ones. It is the new Cooler Master Elite 120.
http://www.coolermaster-usa.com/prod...roduct_id=3102
The layout right now has the PSU over the CPU. What I will be doing is moving the PSU to the front so that I can fit my full size EVGA Superclock heatsink. Mmm so sexy.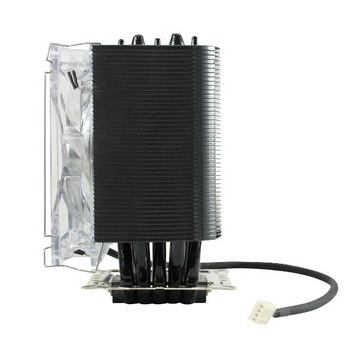 To do this, I just have to punch out the rivets and take out the drive cage and DVD drive holder. I only have one 3.5" hard drive anyway. I can easily fit an SSD somewhere. I just want to have one large SSD when they get cheap enough. Do note that I will not be using a DVD drive right now. A slim one can still fit on the front.
Here it is naked.
I was really hoping the drive cage was tall enough so that I could just shove the PSU in there and call it done. That would have been too easy. Cooler Master should really consider a removeable drive bay and cage in their next revision.
Here you can see that the case is wide enough for cables and a right angle power plug. I don't have a right angle plug right now, so I gotta order one. Eventually the cable will probably go over the top of the case, above the GPU, and out the water hose gromet.
Some space comparisons with a full size GPU.
There is about a centimeter gap, WHEW!!
There is a fan bracket in the front that I will have to bend or cut out so that the PSU can fit. The PSU fan will be facing the front and exhaust out the side? I might have the PSU exhaust the right side of the case, but then that's a mess of cables right by the GPU. I could have it exhaust out the left side by the GPU and block that part off so that hot air doesn't go right back into the GPU - unless I get a dual fan GPU, then it doesn't really matter.
Future plans include ordering a custom plexiglass vented roof and side panels. I gotta figure out some neato design first. I want to incorporate my screenname on the top.
Then I will be shortening the PSU cables so that they are just long enough to reach the components. I could have a website do it for me since I'm rarely home. And finally, I will be painting the GPU cover, various parts, and doing an extra black layer to cover up the scratches I made.
Now, lets punch out some rivets!