Hey guys , 2 days before I got my gtx 465 , and now I have completed my rig ,
specs:
EVGA SR-2
Xeon E5603 1.6GHZ - OC to 2.5GHz
Corsair Dominaor GT 2000mhz 6GB ram
Galaxy GTX 465 vga
1200W Thermaltake PSU
btw: evrything is working properly except my gtx 465 running at x4 speed.
here is a screen shot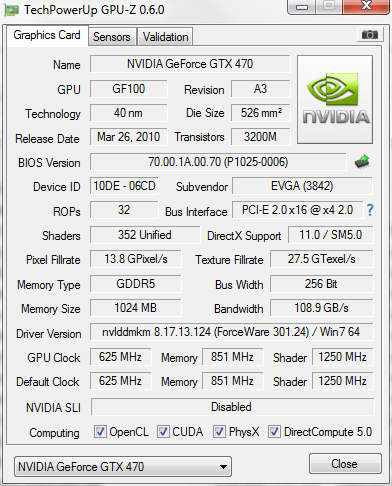 look it runs at v2.0 x16 @ x4 v2.0
and look at this:
in nvidia inspector it shows as x16, but in GPU - Z and CPU - Z it shows as x4
I have tried 285 , 310.24 drivers but it still doesn't change.
I have removed the vga and switched to all 7 pcie lanes but still the x4 speed.
temps are 42oC idle , 79oC load , ambient 27oC
I dont know why is this showing the speed like this.
and I have flashed the vbios to gtx 470 , but it still stuck at x4.
guys please help